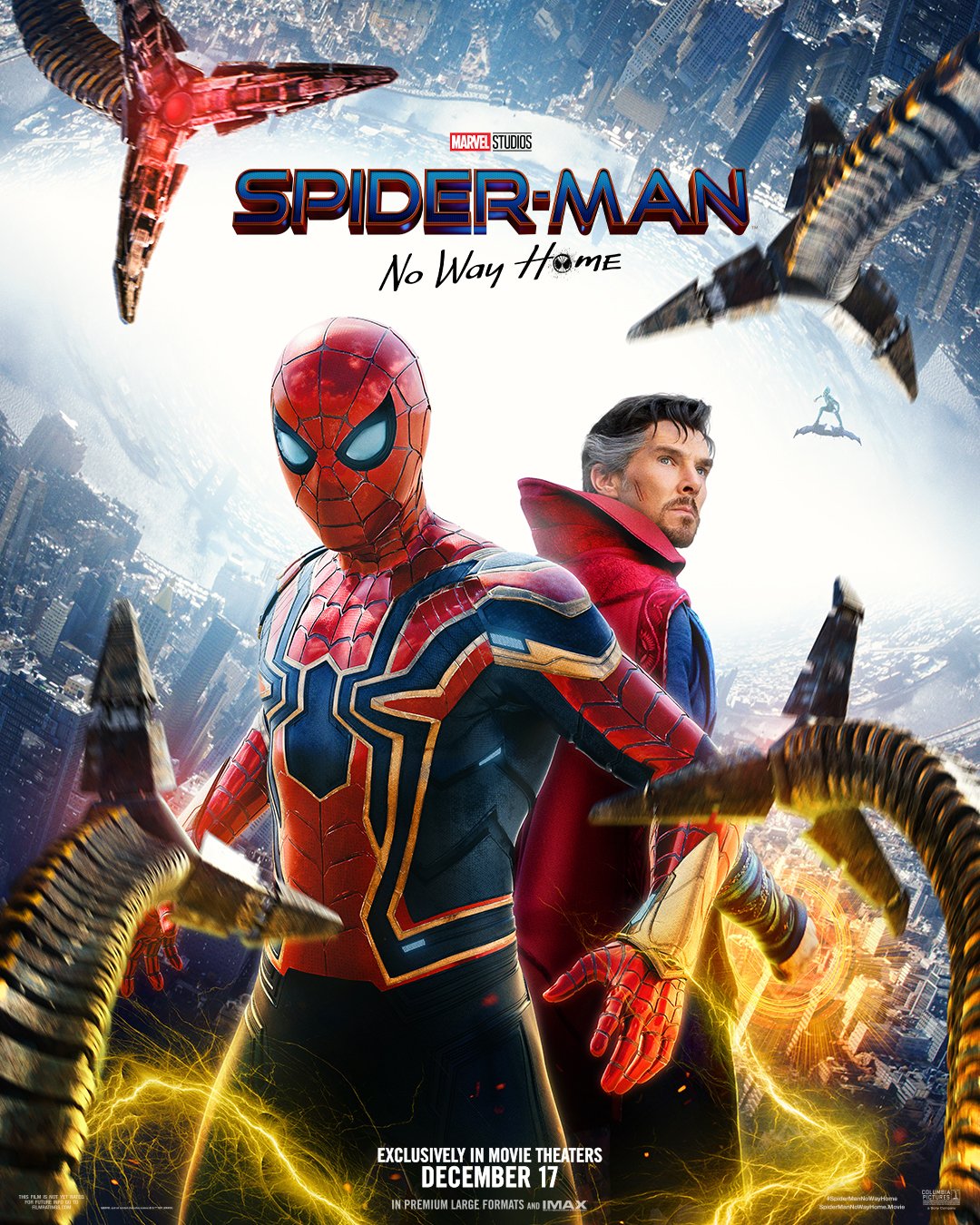 Boy howdy is this movie gonna make me do something different than what I normally would do with a new movie. I'm going to try to avoid spoilers in this as best as I can then have a spoiler talk about not only Spider-Man: No Way Home but also the newest episode of Hawkeye.
Spider-Man: No Way Home feels like the culmination of almost twenty years of comic book movies. It feels that way because of the marketing showing how they were bringing in villains from the previous Spider-Man live action movies. After having seen it, I have to say that they accomplished something on the level of the Avengers movies, but somehow on both a smaller and larger scale.
I'm really glad that they had been able to keep basically the same creative team working on the trilogy throughout. With Jon Watts returning as director and Chris McKenna and Erik Sommers returning as writers you get to have the same creative voice that carried the previous two movies.
The cast is fantastic. Tom Holland just continues to knock it out of the park with his portrayal of Peter Parker/Spider-Man. This is probably the heaviest stuff that he's had to do in the role. You get to see more of Zendaya, like in Far From Home, and she's still a joy to see as M.J. Benedict Cumberbatch as Doctor Strange is a fun addition to the mix. He kind of functions as an annoyed older brother when it comes to Peter.
No Way Home picks up right where Far From Home ended. The doctored footage that Quentin Beck's team made and sent to the new version of The Daily Bugle that not only paints Spider-Man as a villain but also reveals his secret identity to the world. All of the people in his life have to deal with the resulting media frenzy. Peter goes to Dr. Strange for a spell that will make everyone forget that he's Spider-Man, but he keeps changing who he wants to remember. That causes the spell to not work out the way he wanted it to. The spell ends up bringing villains from previous Spider-Man movies into his world. He has to deal with all of those villains while also dealing with the fallout of the world learning his identity.
The CG use throughout the movie is just amazing. There's the action scene stuff but also the deaging of Alfred Molina is amazing. The early stuff that was shown in that first trailer looked less than stellar, but the end result in the movie looks amazing. The redesign of Jamie Foxx's Electro is really fun. It's a lot closer to his classic comics look while still being its own thing. The action scenes are absolutely astounding. Michael Giacchino's score is amazing. He continues to make music that fits these superhero movies perfectly.
Spider-Man: No Way Home is the movie that we needed for the holiday season. I'm not saying that because it's a Christmas movie, but because it'll be the kind of movie to bring people together. Its only in theaters so if you can I say you should go see it in theaters. I give Spider-Man: No Way Home 10 magical boxes out of 10.