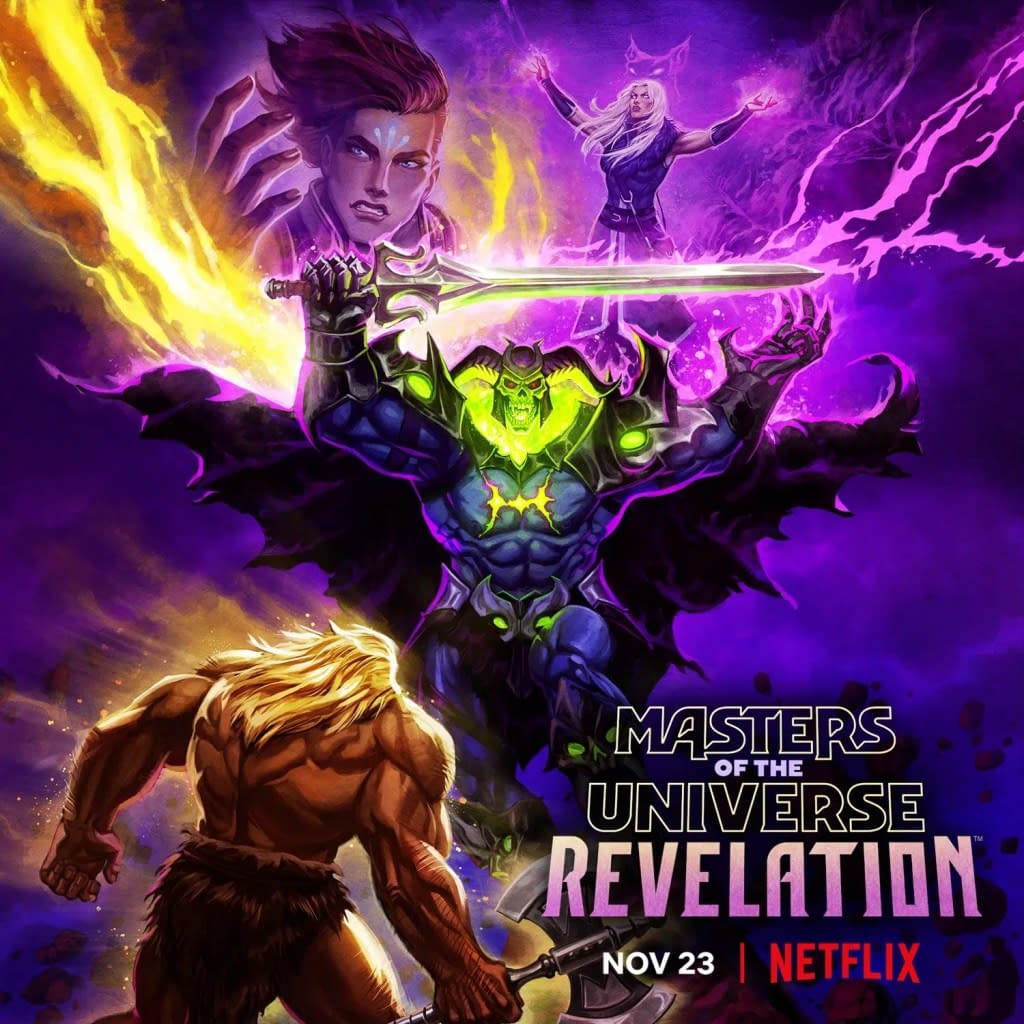 I didn't expect to get Masters of the Universe: Revelation part 2 to be out this year. I was expecting the second part to come out sometime in 2022. It coming out the day before my birthday was an added bonus for me personally. I was a huge fan of the first part when it came out earlier this year. This is more of the same from the first part, while also adding more to what they added to the lore.
The creative team is the same as the first part. Directors being Adam Conarroe and Patrick Stannard and being written by Kevin Smith, Marc Bernardin, Eric Carrasco, Diya Mishra, and Tim Sheridan with Kevin Smith being story editor. All of the writers show a love for the source material. This helps with what they add in the world.
The cast from part 1 returns and they are still just as amazing as before. There are a few new people voicing characters from the original series with Method Man as Clamp-Champ, Ralph Garman as Fisto, and Danny Trejo as Ram-Man. The only bad thing I can say about the new additions is that they don't get enough time. They're basically just cameos, but they're fun so it isn't a waste.
Masters of the Universe: Revelation part 2 picks up right after the ending of part 1.The plot follows Teela and the rest of the crew as the deal with the newly minted Skele-God and the fallout from that. One part that I really enjoyed was a part that was in the trailer. It was the introduction of Savage He-Man, and the pummeling that he give Skele-God. It does end with a tag for a continuation of the story in either a new part or a completely different series. Either way I'm interested in seeing where they go with the ending.
The animation just continues to be just breathtaking. The way they find ways to tweak the classic designs of characters without changing them is amazing. The way that they even make new versions of characters is awesome too. The music by Bear McCreary is a highlight of the show, among many highlights. His score makes everything feel just the slightest bit more elevated.
Masters of the Universe: Revelation part 2 is another amazing addition to the franchise. I hope that the ending is able to be followed up on, because there are so many things that they can do with it. I don't know if this has received the same kind of negative response as the first part, but this part is just as good. You can watch it on Netflix. I give Masters of the Universe: Revelation part 2 9 power swords out of 10.