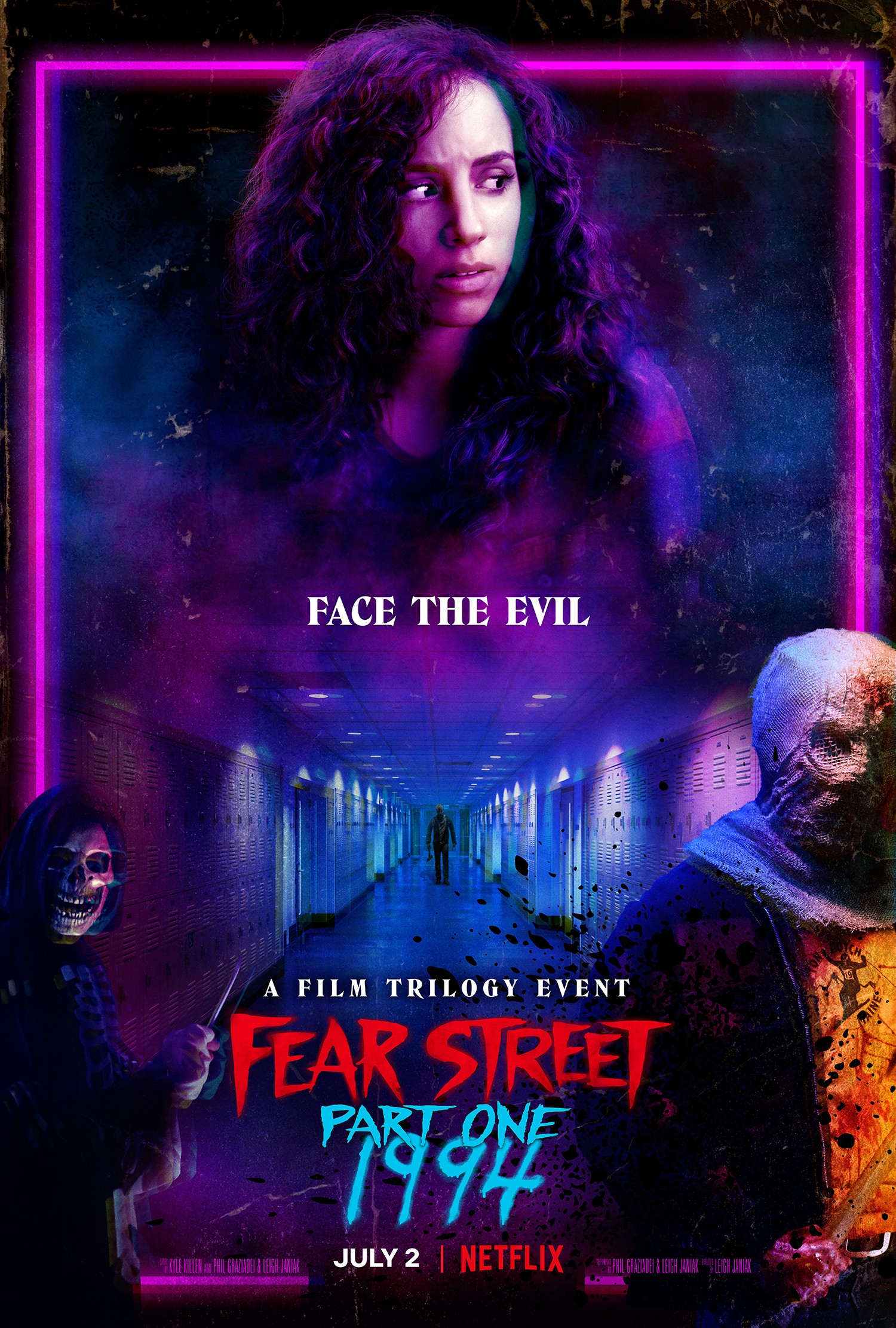 I grew up reading R.L. Stine when I was growing up. I however started and stopped with Goosebumps but it turns out that he wrote a lot more than just that. I feel like I should go back and read the Fear Street books just so I can get a better grasp of what's happening in the movie. This movie, which is the first in a trilogy that has a new movie premiering each week starting on July 2nd, is fantastic. I honestly don't really watch that many Netflix original movies because they don't usually look all that interesting to me. This one did and holy damn did it hook me right away, and I don't say that just because I grew up in the 90s. It was directed by Leigh Janiak, who wrote it along with Phil Grasiadel. She also directed a couple of episodes of the Scream series and the movie Honeymoon, which I have been meaning to see and will definitely make sure to now.
I only recognized two people in the cast, Maya Hawke and David W Thompson. I knew Maya Hawke from Stranger Things and looking so much like her mom, Uma Thurman, it's a little weird. David W Thompson I knew from Green Room and season 2 of The Boys. After that everyone was new to me, even though I thought they looks familiar. Kiana Madeira kicks ass as Deena. She is the connector for the whole group of teens that we follow. Olivia Scott Welch as Samantha Fraser, the ex and kind of McGuffin of the story, Benjamin Flores Jr as Josh, Deena's little brother and resident knowledge haver, Julia Rehwald as Kate, drug dealer, cheerleader, and crush of Josh, and Fred Hechinger as Simon, Kate's fellow drug dealer and all around goofball. The chemistry that Kiana Madiera and Olivia Scott Welch have together makes you feel like you want them to cut all of their shit out and just get back together so that they can at least be kind of happy together. The whole cast actually have amazing chemistry together.
The plot is about how the town, Shadyside, has a history of violence and killing. There's also an urban legend about there being a curse on the town by a witch called Sarah Fier. The actual plot centers on Deena and how she's handling her breakup with Sam, which is not great. The witch stuff happens after Sam's new boyfriend is an asshole to Deena and other people. What happens is the result of a kneejerk reaction, that isn't great but is understandable even if it is an accident. I do want to say that Deena's idea of a date sounds pretty fantastic, eating cheeseburgers while listening to The Pixies.
I want to talk about the production design and just kind of all of the design stuff. The costume designer did an amazing job of recreating 90s fashion. I also want to say that I loved the use of diegetic music in the movie, the only bad part was the use of really good songs but not getting to hear the entire song. The costume designer also did great work with the killers. I have to imagine that the masks were created by a FX house. The masks were phenomenal and together with the costume you got a whole sense of their character.
There's even more to say about the movie, especially with the lead being a seemingly out lesbian in the early 90s, but I don't think I can do that justice.
I do want to recommend seeing it. Either watch it before the second one comes out or just wait and watch all of them together. It's on Netflix.